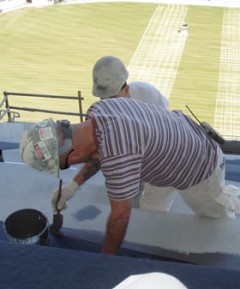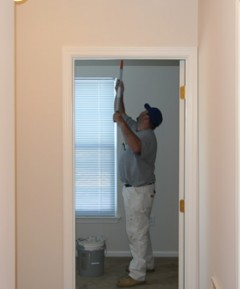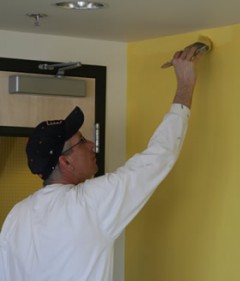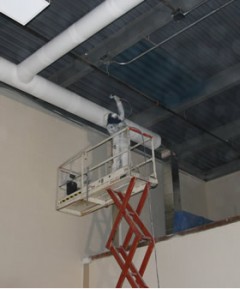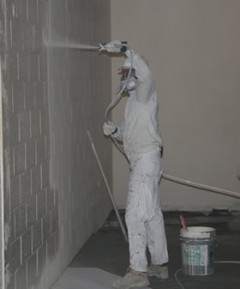 PAINTING / WALL COVERING *  OFFICE FIT OUTS *  INTUMESCENT COATINGS * COVER COAT® APPLICATION * MAINTENANCE PAINTING * DECORATIVE / SPECIALTY FINISHES
PAINTING / WALL COVERING
Hispanic Ventures is a full service painting and wall covering contractor with experience in many types of coatings and finishes. We pride ourselves in working with owners and/or contractors, delivering a quality, on-time finished product. Some of the service we provide are:
Interior/Exterior Painting/Staining
Sandblasting/Power Washing
High Performance Coatings, Specialty Paints
Restoration Painting
Historical Painting
Installation of All Types of Wall covering (Vinyl, Fabric, Suede, Murals)
OFFICE FIT OUTS
Painting and wall coverings office fit outs are unique because they usually require working in or around occupied space. This can involve a lot of coordination with the owner of the space, building management, and other trades. Work can be completed during off hours for minimal disruption and can complete the work in a smaller time frame.
INTUMESCENT COATINGS
Hispanic Ventures has trained and certified applicators of this decorative, thin coat, of interior or exterior fire resistant coating. Becoming more and more a designers choice, HVI has applied Intumescent coating at schools, shopping centers, stadiums, and office buildings.
COVER COAT® APPLICATION
This relatively new application is used mainly in new construction. Branded & made by USG, it is a premium grade finish applied over concrete surfaces to achieve a uniform polished plaster finish. Offers cost & time savings over other finishes. May be painted or decorated.
MAINTENANCE PAINTING
The advantage for the client is that we are able to supply manpower as needed and the organization does not have to keep a staff on payroll. Whether its for repairs, sprucing up, or yearly schedule, Hispanic Ventures can mobilize quickly with the required manpower. HVI is a state certified lead abatement contractor for Pennsylvania & New Jersey thus allowing our trained and certified painters to remove and dispose of lead paint or to encapsulate it.
DECORATIVE / SPECIALTY FINISHES
Hispanic Ventures offers a complete range of decorative and specialty finishes. Our experience particularly with the casino industry has allowed us to develop a wide variety of techniques and finishes. Some of these unique paintings include:
Faux
Marbleizing
Venetian Plaster
Textures
Gold Leafing
Aging
Wood Graining
Duro-plex®
Scuff Master®
Zolatone®